Frequently Asked Questions
When and where can I pick up my packet?
Packet pick up will be December 3 at the gym in the William G. White, Jr. Family YMCA from 12:00-7:00pm. There will also be limited packet pick up on race day from 6:30-7:30am in the gym. 
Can I register on Race Day?
Where does the entry fee go?
Once we pay for our race expenses, 100% of all monies netted go towards programs that support the children in our community, like swim lessons, youth sports, before & after school care, summer camp and more!
What is included in the race packet?
Your race shirt, race bib, special offers from race sponsors and other information will be included when you pick up your packet in- person. Half marathon finishers will receive their finisher's medal at the finish line. 
What type of shirt is included?
We are proud to offer a long sleeve tri-blend cotton shirt to all 5k and Half Marathon participants. Our Fun Run participants will receive a short sleeved cotton blend shirt. The shirt this year will look like this: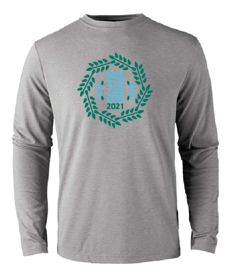 Will you have gear check?
Yes! Our presenting sponsor, Bell Davis & Pitt hosts our gear check in the lobby of the William G. White, Jr. Family YMCA. 
Click here for a parking map. Thanks to our community partners for lending us their space for the day!
The start line is at the intersection of Clover Street and West End Boulevard (at the official entrance to Hanes Park), about a block from the entrance to the Y.
Awards will be given out after each race. Estimated awards ceremony (being held in the front parking lot of the Y) start time for 5K is 9:00am and for the Half Marathon is 10:45am. Awards will be given to the Overall top 3 male & females of both the 5K and Half Marathon, as well as Masters awards to the top 3 male and female runners of both the 5K and Half Marathon (runners in the over 40 division). Age division awards: Fun Run – 5-6 and 7-8. 5K – 7 & under, 8-9, 10-11, 12-13, 14-15, 16-19, 20-24, 25-29, 30-34, 35-30, 40-44, 45-40, 50-54, 55-59, 60-64, 65-69, and 70 & over. Half Marathon – 14 & under, 15-19, 20-24, 25-29, 30-34, 35-30, 40-44, 45-40, 50-54, 55-59, 60-64, 65-69, and 70 & over. No duplicate awards will be given. Sorry, we do not ship awards.
There will be free childcare for runners and their families! Kids Zone Jr (6 weeks to 5 years) and Kids Zone (5-11) will be open from 7:15am-12:00pm. No drop offs past 11:00am. 
All children 5 and up must wear a mask
All items must be labeled with the child's name, including diaper bags, sippy cups, baby bottles (bottles must be premade) and water bottles, etc.
No food is allowed in Kids Zone 
Shoes will be removed in KidsZone Jr., please make sure your child has socks on.
NO electronics or cell phones are allowed in KidsZone
Please allow enough time for check-in prior to your race.
Click here to sign up online! Limited space, so reserve your child's spot today!
Strollers are allowed, dogs and bikes are not.
We can't wait to see you on race day! If you have any additional questions or need more info, please email us at mistletoe@ymcanwnc.org
Can I switch my registration to a different race?
Yes, you can make the change under your profile in your runsignup.com account. If you are switching to a higher cost race, the payment method you used to register will be charged the difference. If you are changing to a lower cost race, you will not receive a credit for the price difference.
What is the Mistletoe cancellation policy?
Refund Policy: Entries are non-refundable and cannot be transferred from person to person.
Cancellation Policy: In the event the race should be canceled for reasons beyond the control of the Race Director or Race Committee (inclement weather or unsafe weather conditions; local, state or national emergency), refunds will not be made, but race packets, including race shirts, will be available at a location to be determined.