Achievers
The mission of the Achievers Program is to assist students in graduating from high school and prepare them for post-secondary opportunities. This year 100% of senior students in Latino Achievers and Black Achievers graduated from high school. The graduation rate in Winston-Salem/Forsyth County Schools in 2017 was 78% for Hispanic students and 86% for African American students.
One of the key components of the Achievers program is the week-long spring break college tour. The students truly enjoy the college/universities and gained valuable knowledge for future college decisions.
Another goal of the program is to have students prepare for the world of work; the achievers participated in several work tours. Through these tours, the students were exposed to the skills most desired by current employers. The achievers program has made a lasting impact on students.
Black Achievers
The YMCA Black Achievers program is an academic achievement and career development initiative for middle school and high school youth and teens. The high school program is referred to as the Black Achievers Program and the middle school program is referred to as Youth Achievers, although both are operated under the umbrella of the Black Achievers Program. 

The purpose of the program is "to help teens set and pursue high educational and career goals resulting in high school graduation and acceptance into and graduation from an institution of higher learning, and successful entry into a career of their choosing." The high school component meets twice per month, once in a general session where there are sessions on a variety of topics related to college preparation and career development, ranging from test taking skills, SAT Prep, to job readiness.

The second meeting is a cluster meeting in which students are broken into a career cluster of their choice (e.g. Computers and Technology, Law and Government, Communications, or Arts, Entertainment and Fashion) and they are involved in hands-on and active career related activities. The program also offers students opportunities for service learning through volunteering, social development, networking and college tours.
Meetings occur select Saturdays from 10:00am-12:00pm at the Winston Lake Family YMCA.
November 19
December 3 (Mistletoe Run at the William G. White, Jr. YMCA)
January 14
January 28
February 11
February 25
March 11
March 25
April 15
April 29
Schools served
East Forsyth
Paisley Magnet 
Southeast
Atkins
Carter G. Woodson
Carver
East Forsyth
John F. Kennedy
Galilee Missionary Baptist Church
Mount Tabor
North Forsyth
Parkland
Quality Education Academy
Reagan
Reynolds
Robert B. Glenn
Walkertown
West Forsyth
Winston-Salem Prep Academy
Follow us on Instagram @ymcablackchievers and on Facebook.

For more about Black Achievers and Youth Achievers, contact William Sherard, Senior  Director of Youth Development, at 336 245 7212 ext. 6372 or w.sherard@ymcanwnc.org
Latino Achievers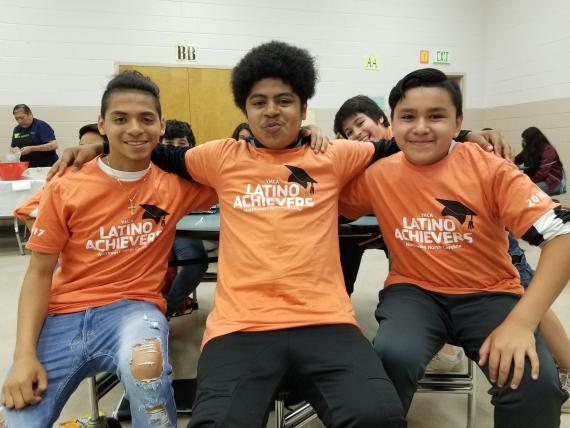 In collaboration with Crosby Scholars, we are introducing a community outreach program that focuses exclusively on the Latino population in grades 6-12. 

Children and teens who participate in the Latino Achievers program are more successful in academics, develop emotion and social skills, and maintain positive behaviors. 

Our goal is to spread the message of both Achievers and Crosby Scholars to promote a "post-secondary/college going culture" among Latinos in Forsyth County. We anticipate that outreach efforts will result in participation in both programs, and ultimately ensure that students graduate from high school and cultivate the necessary soft-skill development to explore post-secondary options.
Schools served
East Forsyth
Paisley Magnet 
Southeast
Carter G. Woodson
Carver
East Forsyth
John F. Kennedy
Mount Tabor
North Forsyth
Parkland
Reagan
Reynolds
Robert B. Glenn
Winston-Salem Prep Academy
Follow us on Instagram @ymcalatinoachievers and on Facebook.
For more information about Latino Achievers, please contact William Sherard, Senior  Director of Youth Development, at 336 245 7212 ext. 6372 or w.sherard@ymcanwnc.org
Statesville Achievers
Achievers is an academic achievement and career development program for students in middle school. The purpose is to help teens set and pursue high educational and career goals resulting in high school graduation and acceptance into an institution of higher learning and successful entry into a career of their choosing.

Statesville Achievers offers college preparation, career exploration, workforce development, SAT/ACT preparation, leadership development, cultural enrichment, character/asset development, and service learning/volunteer opportunities.

Program Goals:
Helps tweens and teens develop a positive sense of self
Raise academic standards of youth
Exposure to diverse career options and colleges
Provide role models whose success and knowledge will inspire youth to set and reach their goals
Prepare students for the changing world of work by demonstrating the skills most desired by employers
Schools served
East Iredell 
North Iredell
Statesville
Troutman
West Iredell