The 2020 National Select Camp highlights 102 up-and-coming athletes across the country 
WINSTON-SALEM, NC – Steven Insixiengmay of the YMCA of Northwest North Carolina's Swim TYDE competitive swim team was selected to participate in USA Swimming's 2020 National Select Camp. This camp will consist of up-and-coming swimmers throughout the country and will provide an invaluable opportunity for growth within the sport of swimming. It will be held in person at the Chula Vista Elite Athlete Training Center in Chula Vista, California on October 7-10, 2021 (girls) and October 14-17, 2021 (boys). 2020 Tokyo Olympians who have attended this camp in previous years include: Katie Ledecky, Michael Andrew, Lily King, Hali Flickinger, Kieran Smith, and Bobby Finke.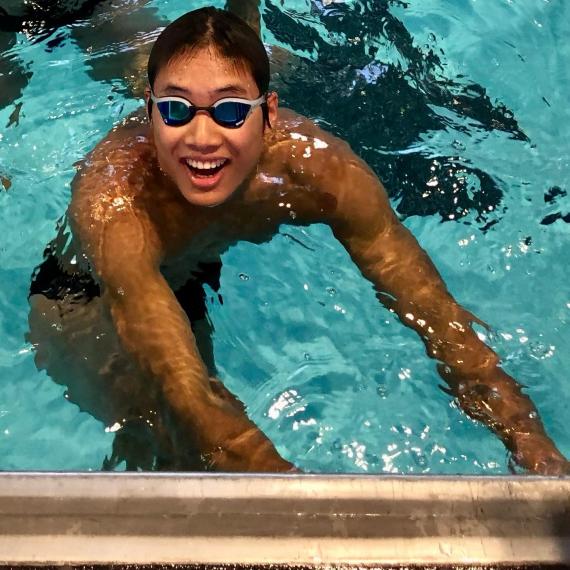 Insixiengmay, a senior at Forsyth Country Day School, qualified based on his 100 meter breaststroke performance at the Orlando Last Splash Meet in July, 2021. 
"We are extremely proud to have Steven representing Swim TYDE at the National Select Camp," said Bob Jennings, Head Coach and Director of Competitive Swimming at Swim TYDE. "This honor reflects the hard work he and so many of our swimmers put into training."
 
During the three-day camp, the 51 boys and 51 girls athletes attending will experience the day-today-routine of a National Team athlete. The campers will learn from top aquatic professionals about post-race recovery, drug and supplement rules, psychological training skills, nutrition, and race strategy.  
 
Swimmers were selected from the SWIMS database using their top time throughout the January 1, 2019-August 31, 2020, qualifying period. The three-fastest athletes in each event within the qualifying age restrictions are invited to the camp. There will be 43 different clubs represented at the girls' camp and 42 at the boys' camp this year. Due to the COVID-19 pandemic, USA Swimming postponed hosting the 2020 National Select Camp athletes from January to October 2021.  
 
For more information & full selection criteria for National Select Camps, please click here. 
For further media inquiries, please contact Michael Bragg, Communications Director of the YMCA of NWNC, at m.bragg@ymcanwnc.org. 
-30-
About the Y: The YMCA of Northwest North Carolina is a nonprofit 501(c)(3). Our Mission: "Helping all people reach their God-given potential in spirit, mind and body." While our Association office is based in Winston-Salem, North Carolina, we have 14 branches located in seven counties — Alexander, Davie, Iredell, Forsyth, Stokes, Wilkes and Yadkin. The YMCA is for Youth Development, Healthy Living and Social Responsibility. 
About USA Swimming: As the National Governing Body for the sport of swimming in the United States, USA Swimming is a 400,000-member service organization that promotes the culture of swimming by creating opportunities for swimmers and coaches of all backgrounds to participate and advance in the sport through clubs, events and education. Our membership is comprised of swimmers from the age group level to the Olympic Team, as well as coaches and volunteers. USA Swimming is responsible for selecting and training teams for international competition including the Olympic Games, and strives to serve the sport through its core objectives: Build the base, Promote the sport, Achieve competitive success. For more information, visit www.usaswimming.org.