On a Sunday morning at the William G. White, Jr. Family YMCA the Barr family gathered with friends to memorialize the lives of students, athletes, sons and brothers, Will and Corey Simons.
Will and Corey grew up in the YMCA. As children they learned how to swim at the Y, participated in YMCA Basketball Academy (YBA) and were part of the after school program at Rural Hall Elementary. During the summer they would attend Summer Day Camp. "Being in Y programs kept them out of trouble and helped them stay grounded," said the boys' uncle Stan Barr. "The Y supported my kids and gave them purpose," explained their mother, Penny Barr, "even when they didn't have basketball practice or a program to go to they wanted to be here shooting hoops or working out."
Their experience in YBA inspired their involvement in sports, improved their basketball skills and their strength, allowing them to be starters once they got to high school. "The programs molded them into the young men they were, taught them how to communicate with other men and helped them make friends, which was important to their success as they got older" shared Penny.
Following a divorce, the loss of her home and a move, Penny's son Will passed away unexpectedly at age 16 in November of 2018. Every year since, the family has gathered together to honor his memory. In October of 2022, tragedy struck the Barr family once again as Penny's youngest child, Corey, joined his older brother.
Appreciating the role the Y, its staff and volunteers played in the boys' lives, the Barr family desired that others have that experience. They decided to donate to the Y in memory of Will and Corey.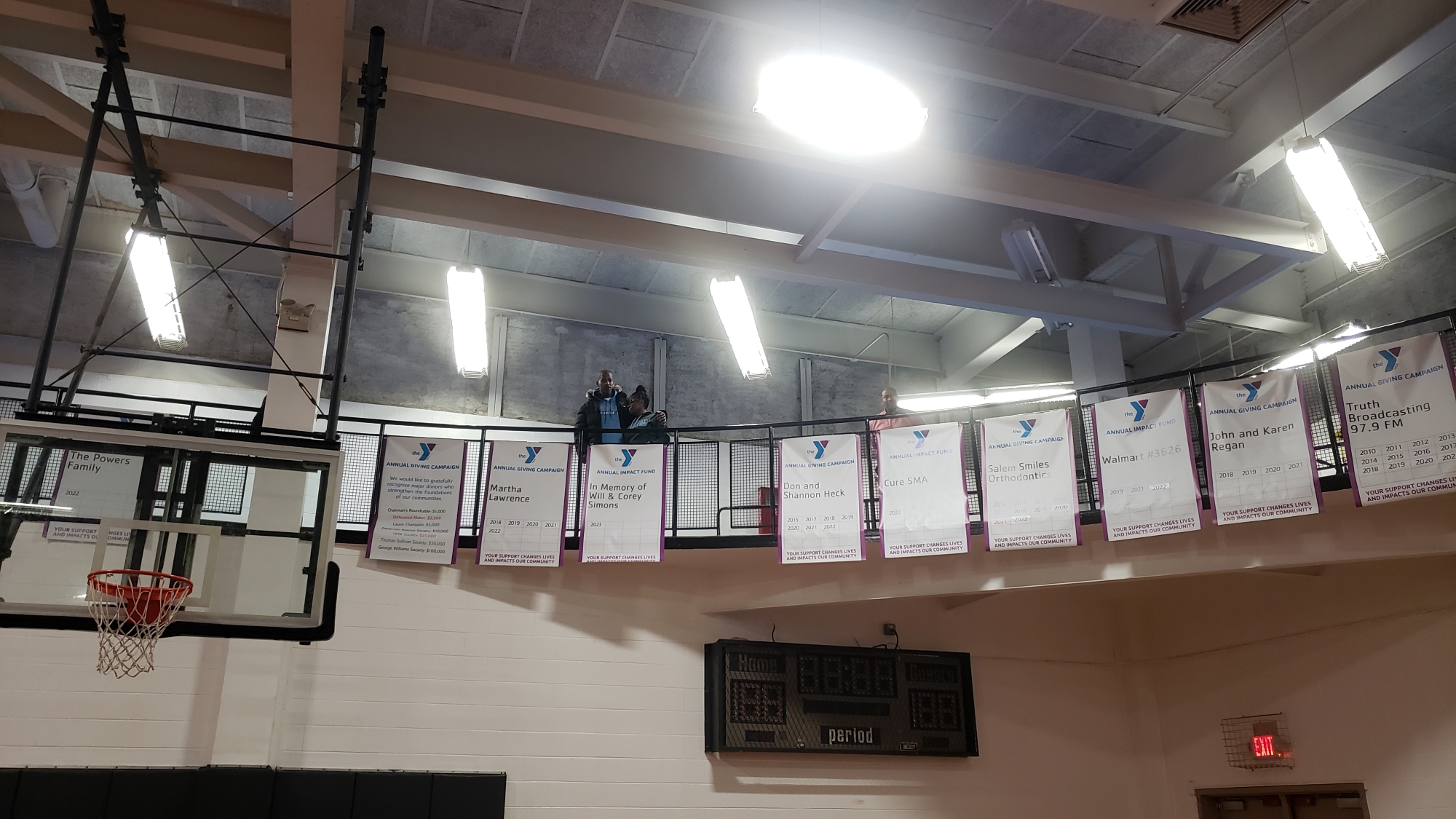 On that Sunday morning the boys' family, friends, mentors and coaches from elementary school through high school, shared stories about the boys, their impact and accomplishments. All stayed to watch Penny and her partner, Richard "Rabb" Hodge, hang Will and Corey's banner over the scoreboard to Queen's "We Are the Champions."
"Joining the Y was a way to get my family to workout, but it became more than that," said Penny, "it brought our family together."
Penny still regularly attends the Y. "People don't realize how dark of a place my sister could be in. She literally lost everything," Stan emphasized. "Coming to the Y she is able to keep herself going. She takes care of herself, it gives her the strength she needs and allows those around her to better support her. Please know that you can make it through this, you can find positive avenues like the Y to make it through."
The YMCA of Northwest North Carolina continues to provide programs that change lives because of the generosity of our donors. If interested in ensuring the sustainability of our mission to help all people reach their God-given potential in spirit, mind and body, consider giving to our Annual Impact Fund.