We offer a variety of housing and meeting accommodations to best serve the needs of your group. With at least 300 beds covering more than 400 acres and meeting rooms for groups of all sizes, we are sure to have the facilities to accommodate you during our non-summer camp season.
 
YMCA Camp Hanes is happy to work with any church, civic, corporate, educational, or non-profit group whose event falls within the bounds of the YMCA mission of "Helping all people reach their God given potential in spirit, mind and body." For events such as family reunions please contact Monica McCallum at m.mccallum@ymcanwnc.org or 336 983 3131 for details.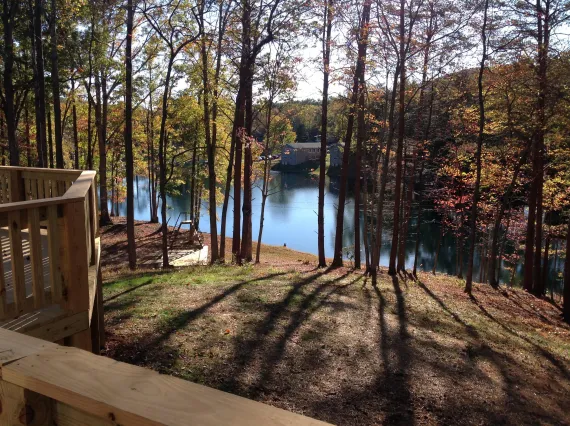 Lodging
We offer 22 Cabins that sleep 16 people each in comfortable bunk beds with full restroom facilities in each sleeping quarter. 
 
Our Alphin Retreat Center sleeps 16 adults within four rooms that fit four people per bedroom. The configuration has two rooms on each side of the building that share a joining bathroom space. There is a communal living/meeting room space with a fridge and kitchenette perfect, plus a separate half bathroom. On the building side facing the lake there is a deck with chairs for meeting or boding around an electric fireplace. Our Alphin Retreat Center is the perfect space for a small group that wants an intimate environment!
 
The Downstairs Dining Hall offers two rooms that sleep 20 people (on bunks) per room with full restroom facilities for each room. There is an adjoining gathering room and the dining hall is steps away.
 
Our new Reynolds Conference Center is capable of seating up to 300 people in the auditorium, or 150 people with tables. It has an excellent audio visual and sound system, large screen and LCD projector. It has a small kitchenette, break out room, and amazing views of our lake and mountain.  
 
The Baker Center Conference Room is capable of seating up to 300 people auditorium-style, or over 100 people seated at tables. The Conference Room is also divisible to give you two smaller meeting spaces if you would prefer to have one side around tables and one side auditorium style. The gymnasium and outdoor recreation space are right outside your meeting space for break time activities.
 
The Nature Room, Small Dining Hall, or the Rec Hall can be used as meeting or breakout spaces for groups of all sizes or gather around the original fireplaces from our Canteen for a fireside chat.
Dining
Our food service staff is prepared to serve you healthy, tasty, delicious meals for breakfast, lunch, and dinner! Contact us to inquire as to availability.
Overnight Retreats
Lodging Rates
Cabin $33
Alphin Retreat Center (ARC) $46
Food Service Rates
Breakfast $12
Lunch $12
Dinner $12
Banquet Meal: $15
Activity Rates
½ Day (up to 4 Hours) Activities $16
Full Day (8 Hours) Activities $21
½ Day High Ropes $21
Full Day Ropes $30

Day Retreats
Meeting Space Rates
Meeting Space Rental Fee $225
Meeting + Meal $20
Food Service Rates
Breakfast $12
Lunch $12
Dinner $12
Activity Rates
½ Day (up to 4 Hours) Activities $25
Full Day (8 Hours) Activities $40
Shotgun Range $25

YMCA of Northwest North Carolina groups receive a 20% discount.

A 250-person overnight minimum required to guarantee exclusive use of YMCA Camp Hanes.