Apply to Work
Thank you for your interest in joining our team!
We here at YMCA Camp Hanes look forward to bringing together another strong staff team for another excellent year. Our team consists of people dedicated to creating a safe, fun, and positive experience for our campers/participants. Camp has the unique opportunity to succeed in providing a beautiful and exciting environment.
Our mission statement is "Helping all people reach their God-given potential in spirit, mind and body." We are looking for employees with positive attitudes who are passionate about providing great service, building relationships, strengthening their communities, and supporting Youth Development, Healthy Living, and Social Responsibility.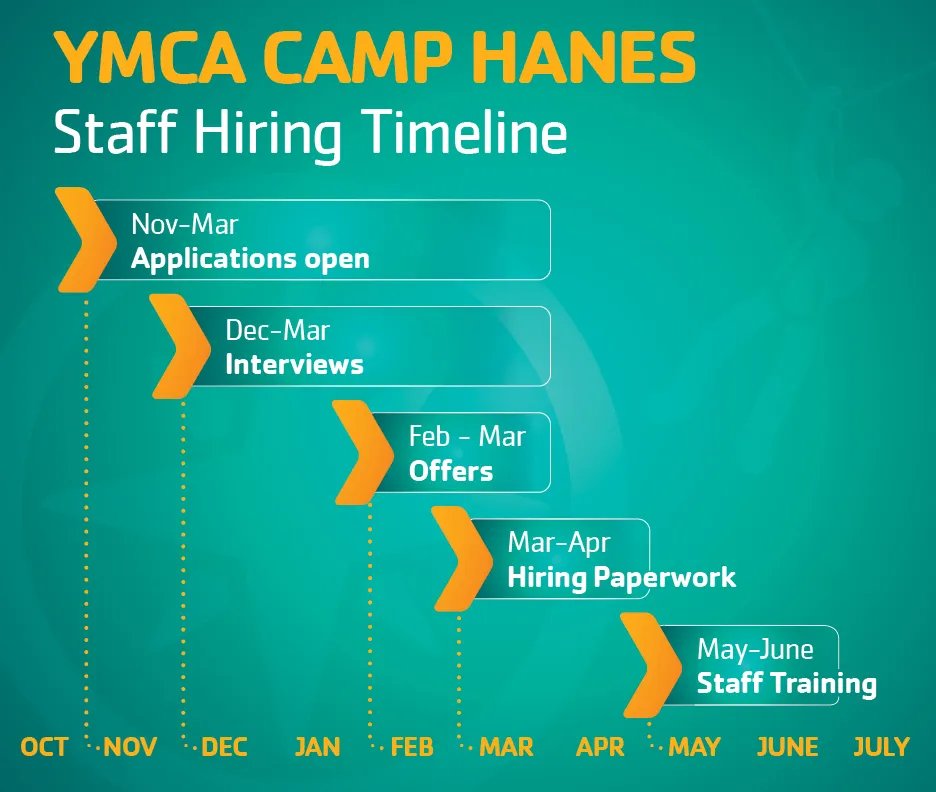 Benefits of Working at Camp
It's a Real Job!
Working at a summer camp is a hard and rewarding job. Sometimes it may be your first job and others the one you do in the summers until you start to work in the field you want to grow a career in. All the same you gain a mass amount of transferable skills to use in the future.
Working in the Camp Environment Cultivates. . .
ORAL COMMUNICATION SKILLS
You will be required to communicate effectively with people at every level of the organization — campers, fellow staff, camp directors, and parents
CRITICAL THINKING AND PROBLEM SOLVING
You will be challenged to think on your feet — from resolving child health and safety issues to facilitating a group of campers in creating and putting on a skit
INTERPERSONAL AND LEADERSHIP SKILLS
You will model professionalism and compassion by managing a group of campers, while contributing to the growth and development of each individual participant
COLLABORATIVE SKILLS
You will receive on-the-ground, practical, real life training in how to work with a team and help build the culture of your camp community
CREATIVITY
You will develop innovative and fun ways to engage an audience of two to 200
Help Recruit Summer Staff
We continue to grow in numbers in camp and continually need awesome staff to help provide our great programming. We gain many staff through campers who then become staff and have staff who will return for multiple summers which is beautiful to see. They know camp and share a passion to continue providing the positive experiences camp provides.
We still NEED more staff though! With our awesome growing camper numbers we need more staff to help facilitate these great moments so we would love your help.
Recruitment Bonus $150
So if you help us recruit someone new to camp, that has not been a camper here or previous staff member there is a bonus. If they are hired for Overnight camp they are required to work a minimum of six overnight sessions. If they are hired for Day camp they are required to work 7 day camp sessions. At the end of the summer when they and you have completed your contract, you will be provided with $150 bonus per recruit you brought onto staff for the summer!
The safety of our staff and program participants is of utmost importance. To that end, we take the following steps in our intensive screening of employees and volunteers:
Detailed application forms
Comprehensive interview process
Reference checks
Criminal records checks
Drug testing (employees only)
Learn more about our commitment to providing a safe environment for all children. Please note that the YMCA of Northwest North Carolina also participates in E-Verify.
If you have any questions about this information, the upcoming summer, or ideas to share please give us a call at 336 983 3131. You may also email Amelia Johnson, Assocaite Director of Overnight Camp, at amelia.johnson@ymcanwnc.org.
2022 Summer Work Dates
Leadership Training: May 23- 27
Specialty Training: May 30- June 3 (High Ropes/Life Guard/Shooting)
All Staff Training: June 6- 10
Back Up Training: June 13- 17 (Day Camp begins this week/Host a Rental Overnight this week)
Overnight Camp Sessions
Session 1: June 19- 24
Session 2: June 26- July 1
Session 3: July 3- 8
Session 4: July 10- 15
Session 5: July 17- 22
Session 6: July 24- 29
Session 7: July 31- August 5
Overnight Staff - Holdover Weekends
(Optional to work a half shift on a weekend and earn and extra days pay)
Session 1: Between Overnight Sessions 3 & 4 July 8- 10
Session 2: Between Overnight Sessions 4 & 5 July 15- 17
Session 3: Between Overnight Sessions 5 & 6 July 22- 24
Day Camp Sessions
Session 1: June 13-17
Session 2: June 20- 24
Session 3: June 27- July 1
Session 4: July 4-8
Session 5: July 11- 15
Session 6: July 18- 22
Session 7: July 25- 29
Session 8: August 1- 5
Session 9: August 8- 12
Junior Counselors (Rising Seniors in high school) $280/week
Day Camp/Senior Counselors (Graduated from high school) $300/week
Day Camp Teen Lead/Activity Support (Stay in cabin but specialize in activity areas during the day) $325/week
Leadership $350/week
Outdoor Education Employment
We host a spring and fall Outdoor Education season at camp. The spring season usually runs from mid-March through till the end of May running into the start of summer camp. The fall season begins at the end of summer mid August through till mid-November.
If you are interested in applying for our Outdoor Education season as an Outdoor Education instructor, please feel free to reach out to Monica McCallum, Associate Director of Outdoor Education and Day Camp, at m.mccallum@ymcanwnc.org, or visit our application!
Wanted: Fun, active, caring, licensed health care professionals to have a positive impact on children's lives this summer! YMCA Camp Hanes is currently seeking professionals to assist in our summer camp infirmary.
 
This position requires a minimum commitment of one week and living on-site in the camp infirmary. As a trade, your children attend camp free of charge.
 
For more information, contact Carmina Eder at 336 983 3131 or email c.eder@ymcanwnc.org.